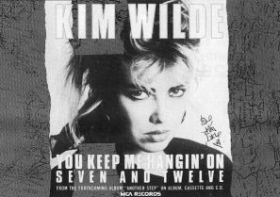 "You Keep Me Hangin' On" wird im September 1986 zeitgleich mit dem Album "Another Step" veröffentlicht. Geschrieben vom Songschreiberteam E. Holland / L. Dozier / B. Holland wurde der Song im Original 1966 von Diana Ross und den Supremes aufgenommen. Gecovert er bereits schon zwei Jahre später 1968 von Vanilla Fudge und auch Rod Stewart nahm eine Version dieses Titels im Jahre 1977 auf, bevor Kim Wilde 1986 mit diesem Lied ihren bisher größten Erfolg landen konnte.
"You Keep Me Hangin' On" war nicht nur einfach eine Coverversion eines 60er Jahre Hits, sondern klingt komplett überarbeitet nun im Gewand eines 80er Jahre Powerpopsongs Selbst an den Originaltext hat man sich nicht zwingend gehalten und änderte ihn stellenweise ab. "You Keep Me Hangin' On" entwickelte sich in England zu einem Hit und steigt in den Charts bis auf Platz 2 auf. In Deutschland brauchte die Single zwei Monate, um überhaupt in die Charts einzusteigen. Ab Dezember 1986 geht es auch hierzulande bergauf und der Song erreicht im Januar 1987 mit Platz 8 seine höchste Platzierung in Deutschland. "You Keep Me Hangin' On" wird in der Folge auch weltweit veröffentlicht. Den größten Erfolg verbucht man in den USA, wo dieser Song eine Woche lang die Billboard Charts auf Platz 1 anführt. Kim Wilde war damit die erste englische Sängerin mit einer Nummer 1 in den USA und sie blieb es auch für weitere zwanzig Jahre. Aber auch in Australien, Kanada und Norwegen stürmt das Lied die Spitze der Charts.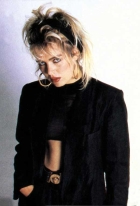 Von diesem Titel gab es insgesamt drei Versionen, eine Albumversion und zwei verschiedene Maxiversionen, von denen eine mit unterschiedlichen Bezeichnungen veröffentlicht wurde. Der WCH Mix mit 9:02 min Länge ist die weltweit veröffentlicht eigentliche Maxiversion und wird auch gern als Extended WCH Mix bezeichnet. In Deutschland wurde sie als "Extended Ian Levine Club Version" nach ihrem Remixer Ian Levine benannt. Der WCH Club Mix mit 6:28 min Länge wurde von Ricki Wilde gemixt und erschien auch nur als deutsche 12" Maxi-Single in Deutschland und dem europäischen Festland. Daneben gibt es noch einen diskothekentauglichen DJ-Mix von Hot Tracks (mix/edit by Kurt Katzan), bei dem der WCH Club Mix auf 9:05 min verlängert wurde. Als B-Seite entschied man sich wieder für einen Titel, der nicht auf dem Album enthalten war. "Loving You" wurde von Kim und Ricki geschrieben und von Kim produziert. Lediglich in Japan gab es mit "Say You Really Want Me" eine andere B-Seite. Ein Musikvideo wurde ebefalls gedreht, dieses gibt es einmal in der regulären Singleversion sowie als WCH Mix Fassung speziell für die Clubs.
Aufgrund der weltweiten Veröffentlichung von "You Keep Me Hangin' On" gibt es für den Sammler unzählige unterschiedliche Pressungen. Die nord- und südamerikanischen Ausgaben sind – sofern sie ein Bildcover besitzen - mit dem blau eingefärbten Coverbild versehen, während die europäischen und australische Ausgaben sich nur geringfügig bei der Farb- und Covergestaltung unterscheiden. Japanische Singles sind generell besonders, da sie meist ein anderes Cover besitzen.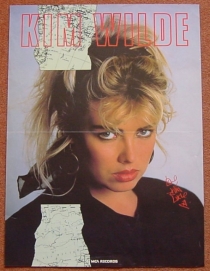 "You Keep Me Hangin' On" was released in September 1986 together with the fifth studio album "Another Step". Written by songwriter team E. Holland / L. Dozier / B. Holland and originally recorded by Diana Ross & the Supremes in 1966. Two years later in 1968 a successful cover version by Vanilla Fudge appeared. Rod Stewart also did a cover of this song in 1977 and Kim Wilde had a massive hit with her cover version in 1986.
Kim's version was not only a cover of a successful 60s song – it was more like a new song. Completely re-worked sounded "You Keep Me Hangin' On" more like a new 80s power pop song. They even changed the lyrics slightly. "You Keep Me Hangin' On" became a hit in UK short after release and went to number 2 in the charts. In Germany it took almost two month to enter the charts, from December on the single climbed up constantly and peaked at number 8 in January 1987. The song was released worldwide and became a massive chart hit all over the world. In the USA the song topped the US Billboard charts for 1 week. It was Kim Wilde only major hit there. The song also went to number 1 in Australia, Canada and Norway.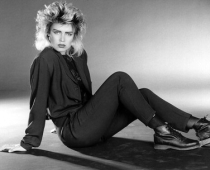 There are only three versions of the song available, the album version and two extended versions. The most common and worldwide released extended version is called "WCH mix" or "Extended WCH mix" (9:02 min.) In Germany this version was named after its remixer Ian Levine and called "Extended Ian Levine Club Version". The other mix is called "WCH Club Mix" and was mixed by Ricki Wilde. This one was only available on German 12" Maxi-Single in Germany and mainland Europe. There was also a DJ mix by Hot Track Remix Service. The 9:05 min. mix/edit was done by Kurt Katzan and is based on the WCH club mix. For the b-side antoher non-album-track was chosen. "Loving You" was written by Ricki and Kim and produced by Kim herself. A promotional video has filmed, which is available in a 7" single version andthe extended WCH mix version.
Due to the worldwide release there a many different pressings of this song available. The north and south-american pressing usually have the blue colored picture sleeve while European and Australien pressings don't differ very much (slightly different colored). Japanese release are generally unique as they come usually with different picture sleeves.