über den Webmaster / about the webmaster: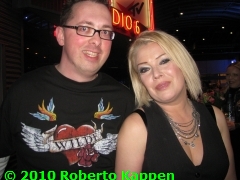 Roberto Kappen ist der Webmaster von www.kim-wilde-discography.net und verantwortlich für die Realisation, das Design und den redaktionellen Inhalt dieser Webpräsenz. Geboren im April 1970 wurde er 1984 mit 14 Jahren ein großer Fan von Kim Wilde. Als leidenschaftlicher Sammler von weltweiten Kim Wilde Tonträgern hat er in den letzten 25 Jahren quasi die Basis für diese Webseite gesammelt Viele Informationen stellte er der offiziellen Fanseite www.wilde-life.com zur Verfügung und hat 2006 mit seiner ersten Discografie-Webseite begonnen. Die Webseite www.kim-wilde-discography ist Teil der deutschsprachigen Webseite www.kim-wilde.net.

Roberto Kappen is the webmaster of www.kim-wilde-discography.net and responsible for realisation, design and content. He was born in April 1970 and started being a Kim Wilde fan at the age of 14 in 1984. He is collecting Kim Wilde items for more than 25 years. He provided many information for the official fansite www.wilde-life.com before he started his first discography website in 2006. The website www.kim-wilde-discography.net is part of the German website www.kim-wilde.net.
Danke an / thanks to:

Danke an alle, die mich bei diesem Projekt tatkräftig unterstützt haben. Sowohl in technischer als auch in inhaltlichen Dingen. Für bestimmte Informationen und Bilder einen besonderen Dank an (in alphabetischer Reihenfolge):

Thanks to all who have support me in technical and realisation. For contributing special information and pictures special thanks to(in alphabetical order):
Arjen (NL), Cathrin (D), Dimi (D), Emiel (NL), Heike (D), Nigel (UK), Sabrina (D), Yvonne H. (D) und Tante Google ;-)