7" Single format (Germany):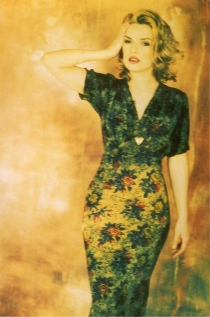 "Who Do You Think You Are" erscheint als zweite Single in Europa und Australien im Juli 1992. In UK erscheint der Song als dritte Single erst im September 1992. Der Song wurde von Ricki Wilde und Kim Wilde geschrieben und handelt von Menschen und ihrem Umgang mit Ruhm oder auch nicht. Zur Single gibt es ein Video und einige TV Auftritte. Auch diese Single wird kein wirklicher Charthit und schafft es in Deutschland nur bis Platz 58. In England war man etwas erfolgreicher und kam mit dem Song bis auf Platz 49.
"Who Do You Think You Are" wird in England als 7" Single, Cassette Single und Compact Disc veröffentlicht. Auf 12" Maxi-Single gibt es den Song offiziell nur in Europa, als Promoschallplatte auch in UK. Leicht veränderte Cover bei den unterschiedlichen Formaten machen auch diese Veröffentlichung für Sammler interessant. Von "Who Do You Think You Are" gibt es insgesamt acht verschiedene Versionen. Die Albumversion, eine 7" Singleversion sowie zwei Extended Versions jeweils eine für UK und Europa, den Bruce Forest Remix, den Bruce Forest Dub Mix und den Bruce Forest Remix 7" Edit. Die 7" Version ist leicht verändert zur Albumversion. Die beiden Extended Versionen sind ebenfalls unterschiedliche Mixe und zudem wird die UK Version auch rund 30 Sekunden später erst ausgeblendet.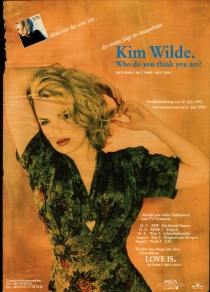 "Who Do You Think You Are" was the second single from "Love Is" in Europa and Australia where it was released in July 1992. In UK the song was released later in September 1922 as the third single. The song is about people and their behavior or not with fame and was written by Ricki Wilde and Kim Wilde. A video was filmed and several tv appearances were done. But the single wasn't a chart hit. In Germany it became only number 58, in the UK the song did better and peaked at number 49.
"Who Do Think You Are" was released in England on 7", cassette single and cd format. A 12" Maxi-single was officially released in Europe, on vinyl it was only available as a promo in the UK. Again nearly each format has a different cover picture or artwork and makes it interest for collectors. There are eight different versions of the song. An album version, a 7" single version and two different extended versions for UK and Europe each, the Bruce Forest 12" Remix, the Bruce Forest Dub Mix and the Bruce Forest Remix 7" edit. The 7" single version is slgihtly different mixed. The two extended versions are different mixes and the UK version plays 30 seconds longer.