7" Single (Australia & UK) format: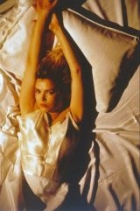 "Say You Really Want Me" ist ein Song, der vom amerikanischen Songschreiberteam D. Sembello, D. Rudolph and D. Spencer jr. geschrieben wurde. Es war die Idee der amerikanischen Plattenfirma, die Kim Wilde mit einem passenden Song als Bestandteil eines Kinofilms in Nordamerika entsprechend besser vermarkten wollte. "Say you Really Want Me" erscheint das erste Mal im Herbst 1986 als Single aus dem Soundtrack zum Film "Running Scared" (deutscher Titel: Diese Zwei sind nicht zu fassen). Eine Chartplatzierung konnte man damals aber noch nicht verbuchen. Nach dem Nummer-1-Erfolg jedoch von "You Keep Me Hangin' On" veröffentlichte man den Titel ein weiteres Mal im Sommer 1987, um dieses Mal auch mit Unterstützung des zwischenzeitlich vorhandenen Videos einen kleinen Charterfolg landen zu können (#44 US).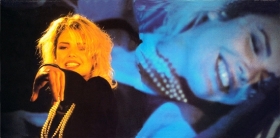 In England erscheint "Say You Really Want Me" als dritte Single, während man damit in Australien insgesamt schon vier Singles aus dem Album "Another Step" veröffentlicht hat. Für Australien und England wurde der Song von Ricki Wilde komplett neu gemixt um dann in einer 7" Singleversion und 12" Extended Version an den Start zu gehen. In England erreicht der Titel die Top 30 und landet am Ende auf Platz 29 während man in Irland sogar Platz 18 erreichte. Das dazugehörige Video (Director: Greg Masuak) sorgte zumindest in England für einigen Gesprächsstoff. Im Video sieht man Kim Wilde im schwarzen Kleid und Perlenkette auf einem Bett mit mehreren halbnackten Männern. Zu viel für englische Verhältnisse, die diese "Gruppensexfantasien" nach kurzer Zeit aus dem Fernsehen verbannten. Zu gewagt und nicht geeignet für jüngere Zuschauer - lautete damals der Kommentar.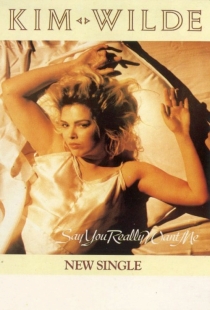 Von "Say You Really Want Me" gibt es insgesamt zwölf verschiedene Versionen. Von der originalen Soundtrackversion, welche rund 4:38 min lang ist, gibt es drei kürzere Edits. Auf der ersten europäischen Ausgabe von "Another Step" beträgt die Spieldauer 4:14 min; auf dem US-Album rund 4:00 min und auf den CD Ausgaben jeweils 3:46 min. Als Single wurde der Titel auf vielen verschiedenen Promos und regulären Singles herausgebracht (CHR version, Urban Version, Radio Edit, Instrumental Version, Extended Mix und Remix). In England und Australien den 7" Single Remix, eine Extended Version und der 9:50 min. Video Mix, wobei letztgenannter identisch ist mit dem US Extended Mix. Einen DJ-Mix von Rob Harvey gemixt gab es von "Ultimix". Vom Video gibt es zwei Versionen – die reguläre Singleversion und eine Langfassung vom 9:50 min. Video Mix. Viel Mühe und Geduld muss der Sammler aufbringen, weil der Song auf vielen Promos und regulären Veröffentlichungen erschienen ist. Mit Abstand die seltenste Platte war lange Zeit die kanadische 7" Promo, auf dieser ausschließlich die Instrumentalversion enthalten ist. Seit der Wiederveröffentlichung von "Another Step" 2010 (2CD von Cherry Pop) gibt es zumindest einen großen Teil der oben genannten Versionen zum Teil sogar erstmals auf CD endlich zu kaufen.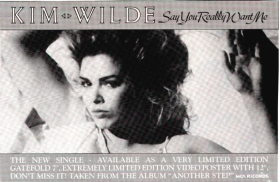 "Say You Really Want Me" was written by US songwriter team D. Sembello, D. Rudolph and D. Spencer jr. It was the idea of the American department of MCAl to promote Kim Wilde in North-America with a suitable song which was part of a soundtrack movie. "Say You Really Want Me" was first released in autumn 1986 to support the movie but without any chart performance. After the number-1-success of "You Keep Me Hangin' On" the song was released again in summer 1987 together with a video and now it became a minor chart hit (#44 US).
In England "Say You Really Want Me" was the third single off the album, while this song also was released in Australia as the fourth single from "Another Step". For UK and Australia Ricki Wilde did a remix of the song which was released as 7" single remix and 12" extended version. It was another Top 30 hit in UK, peaking at number 29 and became a top-20-hit in Ireland (# 18). The video for the single - again directed by Greg Masuak - was banned from UK television. In the video you can see Kim Wilde in tight, black dress on bed together with different men. The comments about the video: too explicit and not suitable for young people.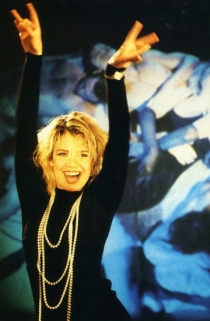 There exist at least twelve versions of "Say You Really Want me". The original soundtrack version plays 4:38 min. There are three edited versions of this one. THe original European vinyl album contains an edit of approx 4:14 min, the US vinyl album plays approx 4:00 min and the version on CD plays 3:46 min. The song was released on many promotional and regular singles (CHR Version, Urban Version, Instrumental Version, Radio Edit, Remix, Extended Mix). In England and Australia there are the 7" Single Remix and the 12" Extended Version. A Video Remix of 9:50 min. length was also released, but this version is the same like the US Extended Mix version. A DJ mix was mixed by Rob Harvey and released by Ultimix. The video also came in two different versions– the Single Version and the 9:50 min. Video Mix version.
For collectors it is very hard to get all the different pressings. The most rare items for long time was the Canadian 7" Single including the instrumental versiont. Since the Re-Release of "Another Step" in 2010 (2CD released by Cherry Pop) many of the versions of "Say You Really Want Me" are now available on CD - some of them for the first time ever.