"Love Is Holy" heißt die erste Single aus dem mittlerweile achten Longplayer "Love Is". Die Single erscheint im April 1992 zuerst in Europa, UK und Australien um wird wenig später im Juni auch in Japan herausgebracht. Promo Singles des Songs erschienen vor allem in Süd- und Mittel-Amerika, um dort für das Album zu werben.
"Love Is Holy" wurde von Rick Nowels und Ellen Shipley geschrieben. Nowels ist Grammy-notierter Songschreiber und Produzent und schrieb schon für viele andere Stars Hits und produzierte diese zum Teil auch gleich mit (Madonna, Dido oder Belinda Carlisle). Zur Single gibt es auch ein Video (director Zanna) und unzählige TV Auftritte.
Die Single wird zusammen mit dem im Mai veröffentlichten Album "Love Is" offensiv in Presse und Funk beworben. Mit der starken Promotion im Rücken erreichte "Love Is Holy" in vielen Ländern einen guten Platz in den Charts. Am erfolgreichsten konnte sich die Single in der Schweiz, UK und den Niederlanden behaupten. Hier gab es jeweils eine Höchstplatzierung in der Top 20. In Deutschland war die Single vor allem bei den Airplays sehr erfolgreich, in den Gesamtverkaufscharts lag man mit Platz 42 aber leider doch nur im Mittelfeld. Immerhin konnte sich die Single über13 Wochen lang in den deutschen Charts behaupten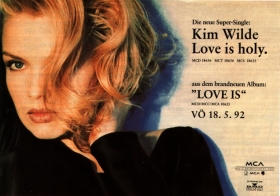 Als B-Seite entschiedman sich für "Birthday Song", einen Song, der nicht auf dem Album enthalten is und quasi ein Geburtstagsständchen zum dritten Geburtstag von Ricki's Tochter und Kim's Nichte Scarlett bedeutet. Geburtstagsgrüße finden sich auf den englischen Vinylplatten im Innenring eingraviert. Für den Sammler gibt es eine gewisse Zahl verschiedener regulärer Veröffentlichungen und auch Promos. Die hohe Ausbeute an schönen Bildern aus den Fotosessions erlaubte es sogar, dass - zumindest bei den englischen Veröffentlichungen - fast jedes Format ein anderes Coverbild bekam. Zu den etwas selteneren Stücken zählen mittlerweile die Promo-CDs aus Japan, die in einem komplett anderen Bildcover erschienen sind. "Love Is Holy" erscheint auf allen Formaten. Vinylplatten im 7" oder 12" Format gibt es vor allem noch in Europa. In Asien und Australien dominierte schon die CD, so dass es "Love Is Holy" dort ausschließlich als Compact Disc gab. Auch auf dem Format MC erscheint die Single als 2-track Cassette Single in UK und den Niederlanden.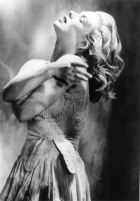 Von "Love Is Holy" gibt es nur drei Versionen. Eine Album Version sowie eine 7" Single Version und den Ambient Mix. Von der B-Seite "Birthday Song" gibt es nur eine Version. Besonders kreativ war man bei der Titelzusammenstellung in England nicht gerade. Als verkaufsfördernder Bonustrack entschied man sich erneut für den "Shep Pettibone Mix" von "You Came", den es schon 1988 einmal auf der Maxi-CD von "Never Trust A Stranger" gab.

"Love Is Holy" was the first single from the eight album "Love Is". The single was released in April 1992 in Europe, UK and Australia. Later in June it was also released in Japan. Promotional singles from South and Middle-America were released to promote the album there.
"Love Is Holy" was written by Rick Nowels and Ellen Shipley. Nowels was nominated for Grammy, wrote a lot of hits for many stars and sometime he produced it too (Madonna, Dido, Belinda Carlisle). A video was filmed directed by Zanna and many tv appearances were done to promote the single.
The single was promoted in a big campaign in press and radio. With this strong support from the record company "Love Is Holy" entered the charts in many countries. The single was most successful in Switzerland, UK and Netherlands, where it became a Top-20 hit there. In Germany the single was quite successful in Airplays but did only managed to get number 42 here.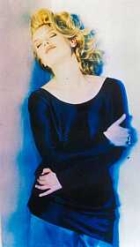 The song on the b-side was a non-album-track called "Birthday Song". The song was meant to congratulate to Scarlett, Kim's niece and Ricki's daughter. Crongratulations were engraved in vinyl records from UK. For collectors many different regular and promotional items were made. Due to the high amount of beautiful pictures of the photo shootings nearly every format in UK has its own cover picture. The most rare items probably are promo CDs from Japan, which have different and unique picture sleeves. "Love Is Holy" was released on different formats: 7" and 12" vinyl was quite popular in Europe. In Australia and Japan the Compact Disc still was already very popular, so the single was released only on cd format there. On MC format it was released in UK and Netherlands on 2-track cassette single.
There are three different version of "Love Is Holy". The album version, a 7" single version and the Ambient Mix. The B-side track is only available in one version. In UK the CD-single contains the "Shep Pettibone Mix" of "You Came" as a bonus track. It was released on CD before (1988 CD-single "Never Trust A Stranger".