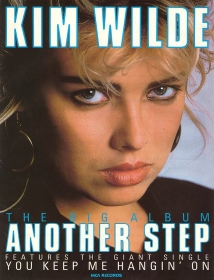 "Another Step" ist das mittlerweile fünfte Studioalbum und wird im Herbst 1986 veröffentlicht. Aus dem Album gingen insgesamt vier Singles hervor, die aber nicht überall gleichermaßen veröffentlicht wurden. "Schoolgirl" wurde bereits in Juni 1986 vorab als Single nur in Europa und Australien veröffentlicht. Als locker leichte Popnummer gerade richtig für den anstehenden Sommer, doch der große Charterfolg blieb leider aus. Ganz anders verhielt es sich mit der nächsten Single "You Keep Me Hangin' On". Die Single schlug ein und entwickelte sich weltweit zum Charthit. Mit dieser Nummer schaffte es Kim Wilde als erste englische Sängerin überhaupt, in den USA einen Nummer-1-Hit zu landen und sollte es für die nächsten 20 Jahre auch bleiben. Die nächste Singleveröffentlichung wurde "Another Step (Closer To You)"und brachte sie vor allem in England wieder in die Top 10. Mit "Say You Really Want Me" hatte man noch einen kleinen Erfolg in England und den USA.

Im Vergleich zum Vorgängeralbum "Teases & Dares" ist "Another Step" klar rockiger ausgelegt. Konzeptionell glänzt die A-Seite eher mit durchaus frischen, tanzbaren Pop'n'Roll-Songs, während auf der B-Seite meist gefühlvolle Balladen und ruhigere Stücke enthalten sind. "Another Step" enthält zum ersten Mal nicht nur Songs, die von Bruder Ricky komponiert und Vater Marty getextet wurden. Für einige Songs konnte man James Burgess, Rod Temperton oder Reinhold Heil als Produzent gewinnen. Die Aufnahmen zu "Another Step" fanden in Los Angeles und im familieneigenen Select Sound Studio statt.
"Another Step" bietet für den Sammler unzählige Pressungen und Varianten bei den Schallplatten und CDs. Das ursprüngliche Cover der ersten Veröffentlichung zeigt Kim vor einer handgemalten Weltkarte. Dieses Cover schon wurde kurze Zeit später zugunsten einer anderen Version ersetzt. Hier ist die Weltkarte im Hintergrund in einem kräftigen rot und grün gehalten. Die Veröffentlichungen außerhalb von Europa, Australien und Japan kamen mit einem anderen Coverbild heraus. Das schwarze-weiße Foto ist Fans besser bekannt aus den Fotosessions zur Single "Schoolgirl". Aufgrund der erfolgreichen Singles in England wollte man die Albumverkäufe wiederbeleben und brachte "Another Step" 1987 erneut heraus. Die Wiederauflage erscheint mit einem komplett anderen Cover und enthält zusätzliche Bonustracks.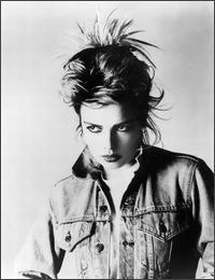 "Another Step" ist he fifth studio album and was released in autumn 1986. There were four singles off the album, which were not released anywhere alike. "Schoolgirl" was a single in Europe and Australia only and released in June 1986 without any big chart impact. The main single from the album "You Keep Me Hangin' On" was a massive chart hit all over the world. It became the first number 1 for a female UK singer in the US charts. The title track "Another Step (Closer To You) was a top 10 hit in the UK. The fourth single "Say You Really Want Me" had an average success.
Compare "Another Step" to the previous album "Teases & Dares", "Another Step" is clearly designed rocking. The concept includes uptempo Pop'n'Roll songs on side A, while on side B mid-tempo songs and ballads were placed. The songs from "Another Step" now haven't written by brother Ricky and father Marty at all. Some songs were produced by people like James Burgess, Rod Temperton and Reinhold Heil. The songs were recorded in Los Angeles and at family's Select Sound Studios.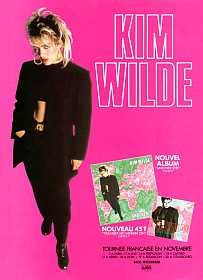 "Another Step" provides for collectors a large numbers of various pressings and variations in vinyl and CD. The original cover of the first release shows Kim in front of a hand-written world map. This version was a few months later replaced by another cover. The world-map is printed in a smoothly coloured version with green and red background. The release outside Europe, Australia and Japan comes with a black & shite picture, better known from shootings for "Schoolgirl". To re-animate album sales in the UK "Another Step" was re-released in 1987 with a completely different artwork and additional bonus tracks.